Weber Gudrun,
Task Force Member. 
BPW Germany, Club Munich
Founding Member of BPW Regensburg, Augsburg, Nürnberg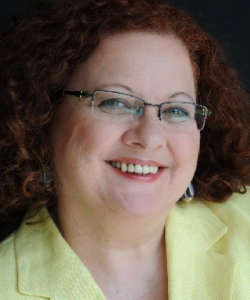 Languages: German, English
Professional Experience and Occupation
Gudrun runs her own training and fundraising consultancy business "Fundraising-Events-Projects" in Munich. She is Bachelor Professional of Human Resources Management. She is also a lecturer at the Rosenheim University of Applied Sciences/Advanced Technical College where she teaches presentation skills to various MBA and MSc courses. She is lecturer at the Private Academies for Applied Economics in Stuttgart and Wuerzburg where she teaches all subjects about economics, management, marketing, quality management, HR management and project management Her clients in the consultancy business are non-profit organizations which start a new project or foundations and associations in the course of formation.
Roles at BPW
Gudrun is member of BPW Munich and 4 years board member of this Club. She also was part of the founding team for new BPW Clubs Regensburg, Augsburg, Nuernberg and Wuerzburg. With members of BPW Munich she was organizing several congresses like "Erfolg" ("Success") or a fair with regional exhibitors and a convention with workshops. Since 2007 she is a certified PEP Trainer. In 2007 and 2008, she was part of the German delegation at the CSW (Conference on the Status of Women) at the United Nations in New York. She runs PEP courses in other BPW clubs and PEP Trainings for students and PhD students in MINT subjects at the TUM (Technical University of Munich).