Schmelzer Sabine,
Task Force Member. 
BPW Switzerland, Club Basel.
Past President BPW Switzerland, Past Regional Coordinator Europe.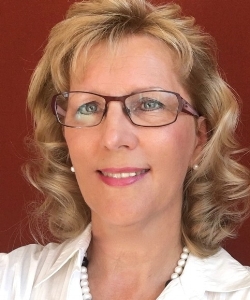 Languages: German, English
Professional Experience and Occupation
In her professional life Sabine Schmelzer is an entrepreneur, consultant and trainer. After having worked in the IT area for more than 20 years as project manager, senior consultant, key account manager and sales director in several software companies and international projects, she founded her own businesses and created new services. The latest one is a documentation service for large events and workshops called "Fast transcriptions".
During her BPW membership Sabine Schmelzer has held several leadership positions. She was 2nd vice president in the Board of BPW Germany from 2004-2006. After her move to Switzerland she became President of BPW Switzerland for three years. In Switzerland she started the Equal Pay Day campaign in 2009, introduced BPW success teams, Senior BPW and BPW Presidents Alumnae.
Since 2006 she is a certified facilitator for the PEP Personal Empowerment Program of BPW and has trained more than 150 women in Germany and Switzerland.
In 2011–2014 she was the Regional Coordinator Europe and member of the Executive Board of BPW International.